Introduction – Abiy's fast-paced reforms
Ethiopia's Prime Minister Abiy Ahmed, Africa's youngest political leader, achieved in 100 days what even opponents could not believe was possible in a country rocked by anti-government protests for months prior.
It was in March 2018 when after weeks of speculation, the ruling Ethiopia People's Revolutionary Democratic Front (EPRDF) finally settled on Abiy to replace resigned Hailemariam Desalegn.
Abiy, 42, was touted as the country's first Oromo PM and a young leader with huge expectations bearing down on his shoulders. The Oromos hail from Ethiopia's Oromia region and are the most populous ethnic group.
The Oromo bloc in the EPRDF coalition is known as the Oromo Peoples Democratic Organization (OPDO) – Abiy is OPDO's current leader.
He took over the mantle on April 2, 2018; and has since then been in 'fast and furious' form – steering the country on a path hitherto unknown – there have been challenges but the successes have outpaced them by miles.
From the lifting of a state of emergency he inherited, undertaking a national tour to rally for unity, introduction of deep democratic reforms, release of thousands of political prisoners, removing terrorist labels on political organizations, firing prisons bosses over torture and admitting that government had in the past employed torture etc.
Then across the borders of the Horn of Africa, Abiy visited Djibouti to Sudan, Kenya to Somalia and then actualized a peace offer with Eritrea. He made a historic visit to Asmara where he signed a peace deal with Eritrean leader Isaias Afwerki.
As at July 25, 2018; the regional trips aside, Abiy's overseas trips had seen him visit the Middle East a number of times. The United Arab Emirates and Saudi Arabia were destinations where the leader held talks with host governments on a plethora of bilateral issues, securing release of Ethiopian prisoners.
PM Abiy's diaspora tour announced
Whiles Ethiopians can be said to be the world over, it is known that most of them are concentrated in North America where they serve in different fields. The PM's first diaspora tour as announced in July 2018 was scheduled for the United States.
The initial notice had stated that Abiy and his delegation were due to meet nationals in two U.S. states – Washington DC and Los Angeles. It wasn't long before news came that a third destination had been added – Minnesota.
According to organizers of the event dubbed: ''Tear down barriers, and build bridges!'' the sole purpose of the visit is to engage Ethiopia's vast diaspora community.
The Prime Minister's delegation comprised Workneh Ghebeyehu, Foreign Affairs minister; Ahmed Shide, Communications minister; Lemma Megerssa, President of Oromia regional State; Fitsum Arega, Chief of Staff among others.
Reaction to GERD engineer's death, uniting EOTC rival synods
Abiy's descent in Washington DC, the seat of U.S. diplomacy was met with bad news back home. The chief engineer of the Grand Ethiopian Renaissance Dam (GERD), Simegnew Bekele had been found dead in Addis Ababa – police are still investigation.
On the particular issue, Abiy via his chief of staff wrote in a tweet: "PM Abiy is saddened & utterly shocked to hear the death of Eng. Simegnew Bekele. PM Abiy received this heart wrenching news with great sorrow as he arrives in the US. Police is conducting investigation. PM Abiy offers his condolences to his family & the Ethiopian people."
PM Abiy as a first order of his engagements, presided over the unification talks between the country's orthodox churches. Synods of the church based in Ethiopia and the U.S. had agreed to heal a rift that led to a split dating back to two decades.
Abiy at a meeting with church leaders in Addis Ababa impressed upon them that the church, as a representation of Ethiopia, should lead by example and become a symbol of the current peace, unity and reconciliation efforts.
The accord reached by the two parts of the church was thus formalised in the ceremony attended by the Prime Minister as well as six senior clergy representing both sides.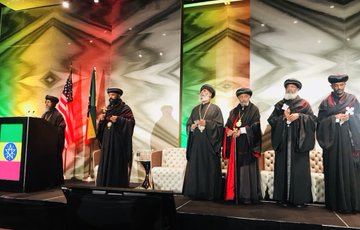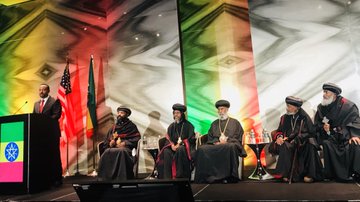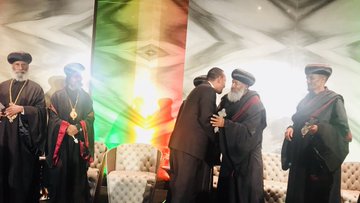 After significant mediation efforts, PM Abiy witnessed in DC the reunification of the 2 Synods of the #Ethiopia-n Orthodox Church. The meeting opened with prayers for Eng. Simegnew, Ato Getachew & peace for our county. The 2 Synods are reunited into one Holy Synod after 27 years.
First stop Washington DC – Economic and political diplomacy
In Washington, he held talks with the U.S. government specifically with the vice president, Mike Pence at the White House. The U.S. government said talks centered on the opening of political space back home and critically the Eritrea peace deal.
Before meeting with Pence at the White House, Abiy and his delegation also held high-level economic meetings. Both heads of the world's financial institutions met and held talks with the delegation.
The World Bank chief, Jim Yong Kim, tweeted that his interactions with Abiy were on the areas of mutual cooperation between Addis Ababa and the bank. It spoke to Abiy's transformational agenda and assistance to boost human capital and end poverty.
Then there was the meeting with International Monetary Bank (IMF) boss, Christine Lagarde. Again both parties discussed issues of mutual relations. The IMF issued a statement to that effect.
Interface with Muslim association, political parties and nationals
Abiy addressed a gathering of Ethiopian North American Muslim Foundation (BADR) in US, Virginia. In his remark, he said the ideals of love, forgiveness and reconciliation provide a true foundation for peaceful, democratic and prosperous Ethiopia.
Whiles addressing political actors, the PM "urged a multitude of fragmented political parties to come together and get organized and present their views to the public in a peaceful process of democratic discourse," chief of staff Arega reported.
Then at a packed venue literally littered with Ethiopian colours, PM Abiy and his delegation met with a cross-section of nationals as he sought to drum home the call for national reconciliation.
The exchanges also saw the PM stressing the need for disaporans to return home in some capacity to help build and rebuild the country. Nationals were also afforded the opportunity to raise issues of concern – all of which government promised to address.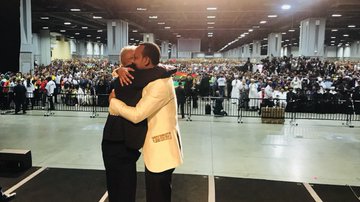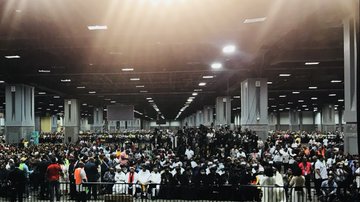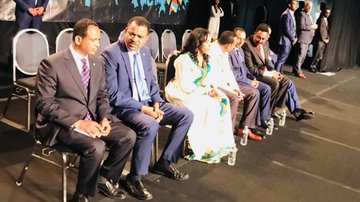 "Let's break the wall, let's build a bridge. Let's build a united Ethiopia. Let's build one Ethiopian community. Let's look inward and examine ourselves—let's only take the best from our history and join in common purpose. Let's build a just society. #Ethiopia."PM Abiy in #DC (1)
Meeting with Patriotic Ginbot 7 leader
Then in keeping with his resolve to woo opposition in the diaspora to return and engage in peaceful politics, Abiy held a meeting with Berhanu Nega, leader of Patriotic Ginbot 7.
The group had previously been designated a terrorist group, but at the time of the meeting, however, it had been struck off the list of terrorist entities along with other armed opposition groups like the ONLFand OLF.
Talks with former dissidents have always been based on an invitation to return home and to participate peacefully in the political process, the talks with Nega at the Watergate Hotel in Washington D.C. according to reports were no different.
Andergachew Tsige, a secretary of the group had only months before been pardoned by the government. He was on death row for terrorism charges. He was one of the high-profile prisoners to have been released. He met with Abiy before flying out to join his family in the United Kingdom.
In the second part of this review, we will explore the Los Angeles and Minnesota legs of the tour and look at the PM's assessment of his tour. Plus how other Ethiopians in the diaspora also saw it.
Source: Africanews.com